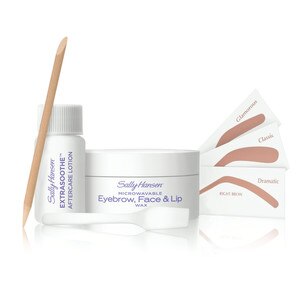 One of the most dramatic ways to change your appearance (without surgery) is to have your eyebrows shaped. Whether it is via waxing, plucking, or threading, when you get your brows done you can look like an entirely different person (in a good way.)
Most places charge around $10-15 dollars for an eyebrow wax and this process takes around 5 minutes in a spa or salon. For at home results for those who like to do beauty treatments at home, the Sally Hanson kit works well but this is for those with moderate or better experience doing their brows. I would not use this kit if this is the first time you are trying to wax at home especially if you are waxing your own brows.
I found this kit easy to use and quick. The trick is to not over heat the wax. I prefer a q tip to the spatula provided in this kit. And for around $5 or 6 dollars in most drugstores this kit probably has enough wax for at least 10 eyebrow waxes.
The only way this differs from most salon waxes is there are no muslin strips. So you just apply wax, apply pressure from your hand, and then peel hardened wax. Again the trick is to not overheat the wax.