For today's post (day 4 of 7) I am doing a collaboration with Kendra Thornton of Thornton PR. Kendra writes:
This year, I get to take my kids on a trip to Orlando! I'm already having a ball planning outings for us to enjoy together during our stay. I've definitely decided that we need to spend a day together at Epcot. We'll have lunch together and maybe catch a show in this unique spot. Who knows what celebrities we may see?! Goofy, pooh or even cinderella! :) I expect to encounter several photo opportunities, so I want to look my best for our day out! I am so happy that one of my favorite bloggers reached out to me! Yana is so talented and extremely creative with her fashion choices. I can't wait to see what kind of looks she creates for me while I'm at Epcot. I found a ton of really
neat venues
at Epcot through a website gogobot. They gave first hand reviews about just about everywhere! The city of Orlando has become a hive of vacationing activity, and the locals welcome visitors from all over the globe. I love the family-friendly nature of this city. Many attractions even feature amenities specifically designed for families with young children. People of all ages find plenty to do and enjoy here. Regardless of what plans we make while in Orlando, I know I'll enjoy myself the most when I'm dressed my best!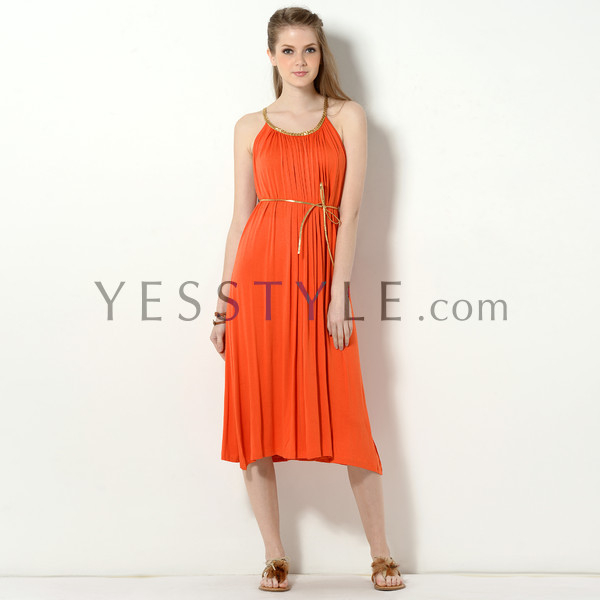 Orange Midi dress from yesstyle.com
Instead of the gold cord used to tie the orange Midi dress I would reuse the headband from that Madonna girl, that I mentioned a few days ago (to view the headband click here) as a belt.
For shoes I would pick a comfortable gladiator flat for the daytime like these gold coach Gillian sandals.
An important part of this look is going to be sunglasses and these gold and bronze tone Gucci sunglasses are going to work well well with the orange citrus dress.
And then this BCBG clutch is chic and works well.
My pick for a bikini for today is by Victoria's Secret: